1986 Lincoln Mark IV LSC Mark 7 Grants Pass, Oregon 97526 For Sale
THIS ITEM HAS BEEN SOLD!
Please click "back" or on the top menu for other listings.


[click on the image below or scroll to the thumbnail images at bottom to view the gallery.]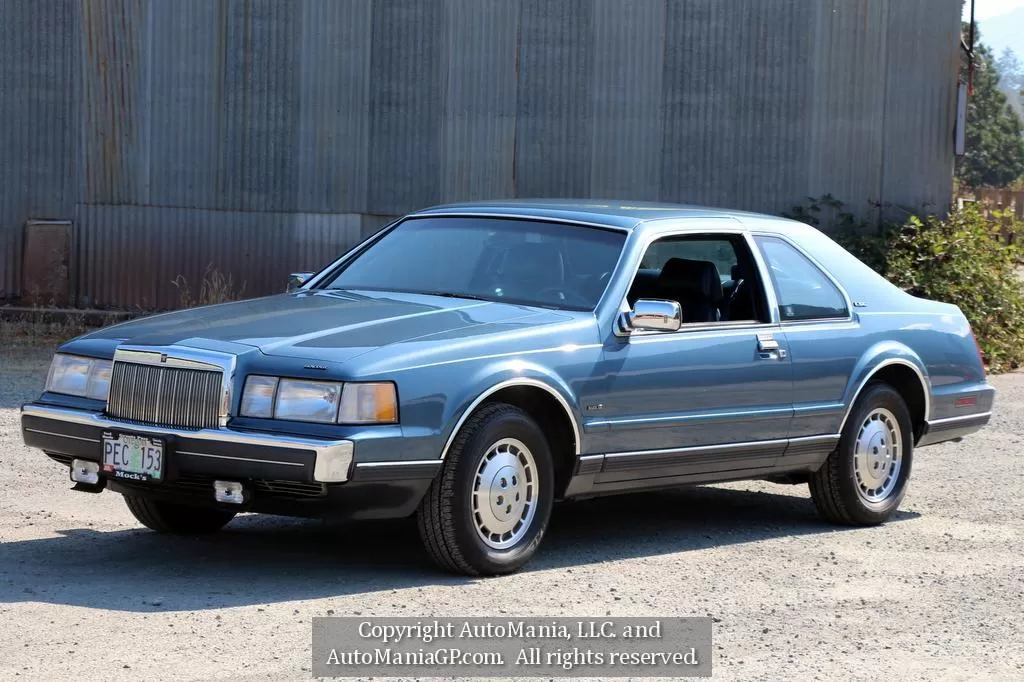 1986 Lincoln Mark IV LSC Mark 7
Grants Pass, Oregon 97526
Price: $4,995 USD
- PREVIOUSLY SOLD
You hear stories all the time of retired folks moving up from somewhere else and bringing with them a car or truck they bought new thirty or forty years ago and finally selling it. Sometimes the miles are insanely low and the vehicle is in almost new condition, it is just older. We all have a neighbor or friend who waxes on continuously about the cream puff he picked off the original owners. Well, this time you can get that car here, at Automania LLC.

This is a 1986 Lincoln Mark IV LSC bought back in 1986 in the Bay Area and was used as the wife's car for all of these years. The owner's made a final permanent move to Grants Pass about thirty years ago and brought the car with them. While living here, the car was always serviced at Mock Ford (originally know as Mock Ford Lincoln Mercury back in the day) on a regular basis. It has been garaged and owned with great pride over the years. According the owner, it is all original paint and interior and it shows incredibly well. When the car came in, we did wash it, but that was all we did before taking the images you are seeing.

The car drives solidly, not a rattle or squeak. It is really a step back in time to what was considered the best driving experience Ford could produce in the day. The owner's reported getting up to 23mpg on the freeway and the car has never missed a beat. The AC is not blowing cold and is R12, needing a charge. The Tach needle sticks when it is first started, but a very light tap on the dash has it up and working normally instantly. I could not find anything else worth noting. What a great car, what a great road back to a different time in driving and our perception of what luxury meant. You will be hard pressed to find a more original, clean Mark IV LSC.

The selling price is $4,995. The VIN# is 1LNBP98M4GY738214. Miles are 69,375. Please come by and see it at Automania LLC, 895 SE Gladiola Drive, Grants Pass, OR 97528. http://www.automaniagp.com 541 479 8888 Oregon Dealer DA1287.

Automania LLC is a Consignment Oregon Dealer selling quality, privately owned vehicles including Aprilia, Buell, BMW, Citroen, Ducati, Harley Davidson, Honda, Hummer, Kawasaki, Moto Guzzi, MV Agusta, Nissan, Ossa, Piaggio, Suzuki, Triumph, Vespa, Classic Hot Rods, Buick, Dodge, Ford, Chevrolet, Lamborghini, MG, Packard, Porsche, Rover, Shelby, Toyota, Triumph, Volkswagen and any other vehicle of interest.

[click on a thumbnail below to view a larger photo - IF you don't see thumbnails then your browser is blocking them.
You can either turn off ad-blocking or try clicking on the top graphic in order to thumb through the photos.]