1931 Ford Model A AV8 Hemi For Sale
THIS ITEM HAS BEEN SOLD!
Please click "back" or on the top menu for other listings.


[click on the image below or scroll to the thumbnail images at bottom to view the gallery.]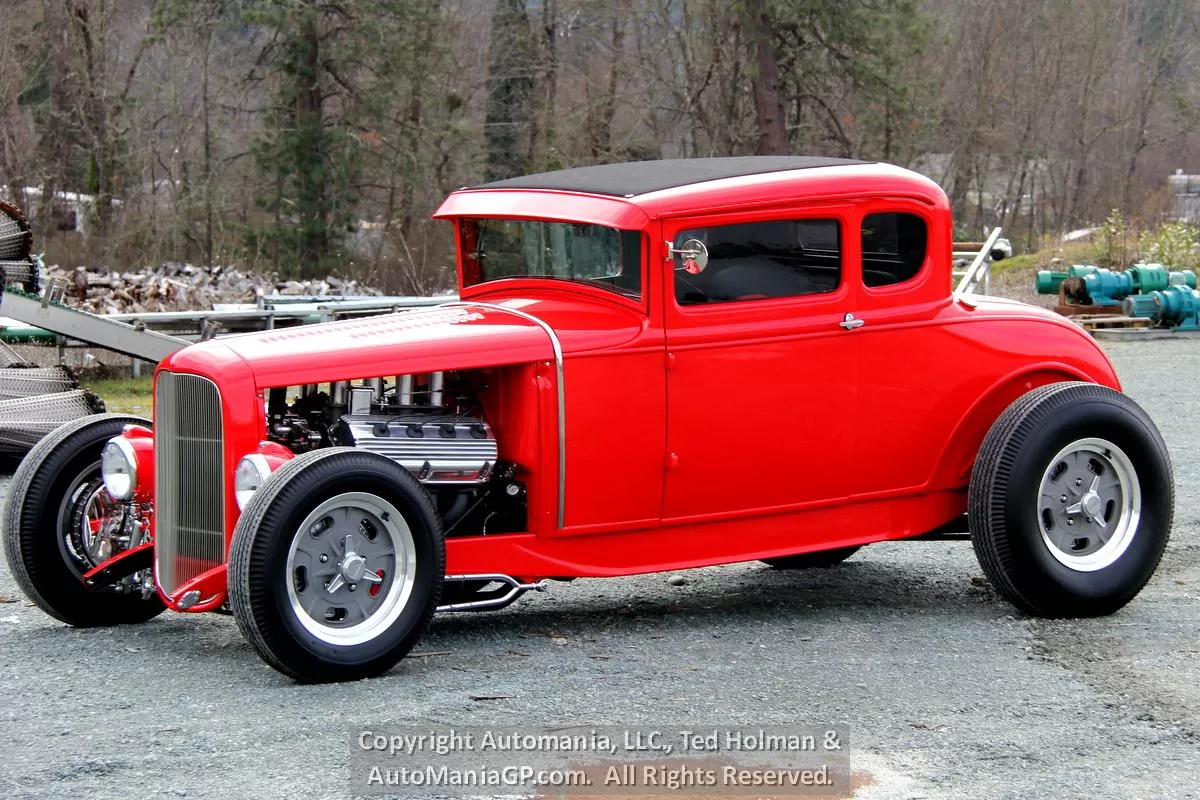 1931 Ford Model A AV8 Hemi

For many, a 1931 Model AV8 Hemi Hot Rod is an ultimate expression of what long ago Hot Rodders of the 50's and 60's slowing refined into going fast at Bonneville based on the cheapest available car, Henry Ford's Model A.
A big Engine, stout Transmission, a big Rear End in a Model A body lowered onto a pinched 1932 Ford frame offering the smallest presentation possible was the key to going fast.

Dave visited Bonneville about fifteen years ago and was smitten with these early Salt Racers. Over the years has seen a constant evolution of his vision of what would have been built in the day, with support of modern suppliers and technology without disrespecting the original premise, big engine, big rear end and small frontal presentation. Dave has educated me on the difference between a hot rod and a street rod. A Hot Rod does not have Power Steering, Power Brakes, Power Windows, AC, a Honking Stereo all designed to bring a semblances of comfort to driving a Street Rod. What a Hot Rod is made up from are the basic needs, big motor, transmission and a big rear end, nothing that deviates from that goal.

Eleven or so Model A-V8's later, Dave Hamilton built this Hemi a few years back as an expression of his ultimate build, putting everything that he had sorted through over the years into his ultimate car, one that he would once again drive to Bonneville to watch the time trails and home again. It was one of his last Hemi Hot Rod's, one of the four 392's that we have sold over the past ten years. Each build has fine tuned a narrow part of his specific theme, a late 50's or early 60's Hot Rod, built with period drive trains in 28-31 Model A's while using modern techniques and developments.

Before leaving for Utah, Dave brought it by for an appraisal. All of this information can be heard coming from Dave in the attached video he and I worked on for the appraisal. While it was parked here in the shop, a good customer saw it and offered to write Dave a check on the spot.

Dave drove his Ram 2500 to Bonneville that year.

Two years later, the buyer is ready to sell and brought the car back to be sold with another 850 miles on the clock for a total of 1,165.

I shot a video of Dave talking about the build. Where and who was involved and it is a great vision of the car being offered. The body came from Roseburg and Dave swears it was the best Model A body he has seen. There was almost no rust, in fact the minor, small panel he replaced was so small he kept it as proof of the body condition. He then did the unthinkable, he removed 4" from the top (there should be a law against cutting up great cars) for the perfect stance. He added a 1932 Grill Assembly which required a custom engine hood from the Cowl to Radiator. A long story made short, it allows additional leg room.

Everything else was intended to support the engine, the 4" Chop of the roof, the color, the stance, even the wheels and tires.

Dave gave me a list of the parts and pieces that went into the build and you can hear him describe and it is written below. As always, a great build done by a talented guy who loves building cars. The car is not for everyone, but there is no denying it as a Hot Rod or the statement it makes driving by or being parked.

1. Blackboard Hot Rod Frame
2. Chassis Engineering Chromed and Polished Front End Assembly
3. SoCal Front Spring
4. SoCal Front Hair Pins
5. SoCal Hidden Disk Brake conversion
6. Aluminum Buick Drum Brake Covers
7. Firestone tires on Rocket Halibrand Style Wheels
8. Currie 4:11 Rear End: Alloy Axles with Posi Trac.
9. Pete & Jakes Ladder Bars
10. Posies Rear Spring
11. Tremec 5-Speed
12. Stainless Steel Brake Lines
13. Corvette Master Brake Cylinder
14. 1957 392 Chrysler Hemi Bored .030 over, built by Peckham Precision Engines
15. Hot Heads Oiling System
16. Hot Heads Timing Cover
17. Hot Heads Valley Cover
18. Hot Heads Transmission Adapter
19. Big Block Chevrolet Water Conversion
20. O'Brien Truckers Valve Covers
21. Hilborne Electronic Fuel Injection System
22. MDS Distributor
23. Walker Radiator
24. Cooling Components Radiator Fan
25. 18 Gallon Aluminum Gas Tank
26. A-N Fuel System Fittings

The leather Tuck and Roll interior was completed by Greg's Upholstery here in Grants Pass which included not only the seats and door panels, but the interior roof as well. Stewart Gauges fill the dash along with a Ididit Steering Column.

Paint was applied at Dave's Body shop by a now retired painter-artist guy named Chris who also was responsible for painting the frame which was powder coated black before being painted. The color is Viper Red and it is absolutely the best choice Dave could have made, it is beautiful. The rear deck lid was louvered within an inch of collapsing, they could not fit a single one anywhere and the Pin Stripping story is pretty amusing. The rear end had all of the sharp corners radiuses and smoothed.

If you want the exact details of the build, listen to the video of Dave talking about the car on the web site.

The VIN# is OR11260 and miles are 1,165. Please come by and see at Automania LLC, 895 SE Gladiola Drive, Grants Pass, OR 97526. http://www.automaniagp.com 541 479 8888 Oregon Dealer DA1287.

Automania LLC is a Consignment Oregon Dealer selling quality, privately owned vehicles including Aprilia, Buell, BMW, Citroen, Ducati, Harley Davidson, Honda, Hummer, Kawasaki, Moto Guzzi, MV Agusta, Nissan, Ossa, Piaggio, Suzuki, Triumph, Vespa, Classic Hot Rods, Buick, Dodge, Ford, Chevrolet, Lamborghini, MG, Packard, Porsche, Rover, Shelby, Toyota, Triumph, Volkswagen and any other vehicle of interest




[click on a thumbnail below to view a larger photo - IF you don't see thumbnails then your browser is blocking them.
You can either turn off ad-blocking or try clicking on the top graphic in order to thumb through the photos.]

Taking a ride in a 1931 Ford Model A AV8 Hemi


Dave talking about the build on his "1931 Ford Model AV8 Hemi


For those who love the sound of a Hemi Hot Rod....