1927 Ford Model A Coupe For Sale
THIS ITEM HAS BEEN SOLD!
Please click "back" or on the top menu for other listings.


[click on the image below or scroll to the thumbnail images at bottom to view the gallery.]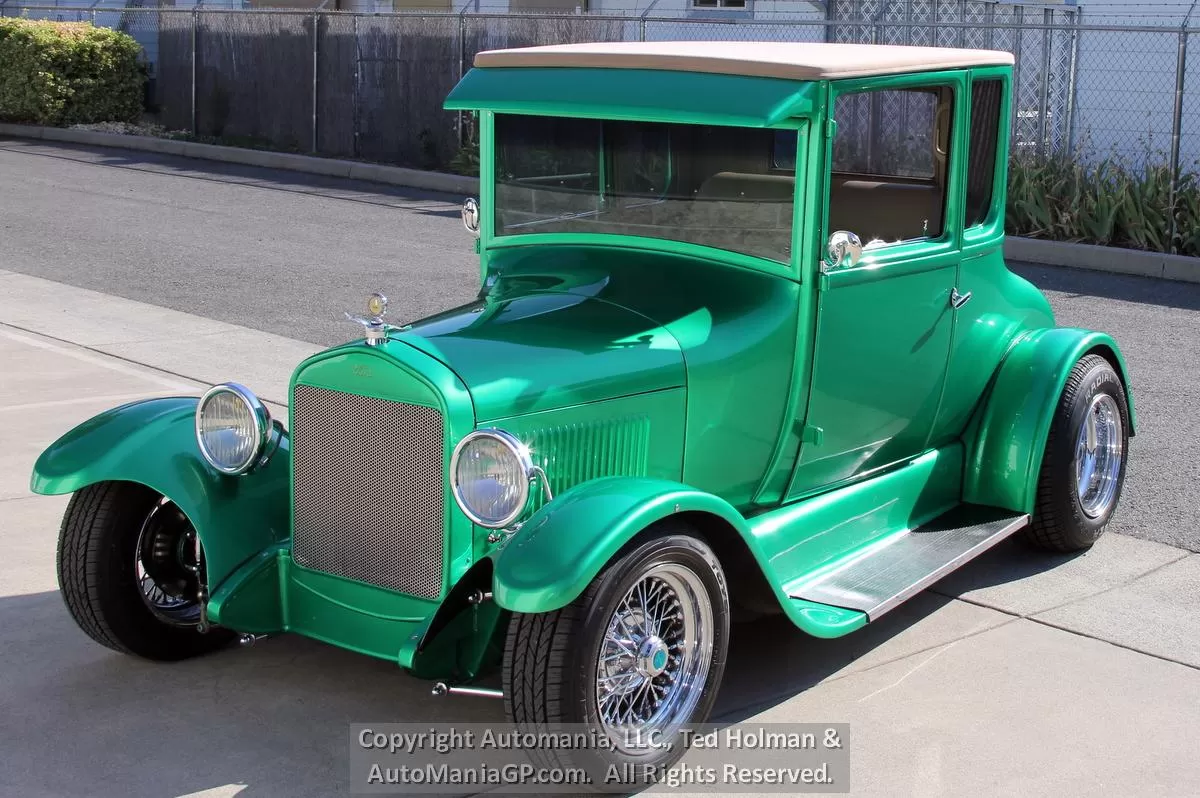 1927 Ford Model A Coupe

My buddy Mike makes me do all the work! We got this beautiful "When Green" 1927 Model T Coupe from the estate of a very long time owner who had bought the car from Beldon Webber in 1993. The stock Model T sat for a bit before a group of Rogue Valley legends including some of the premier builders and painters came on board. Apparently the story of the "When Green" was created "When" enough color had been added to satisfy everyone's tastes.

The steel body was restored by Tracy Goforth, Lonnie Tuley and Bill Tyler. The Fenders and front engine Cowl are Fiberglass, but the rest is Ford metal. Paint was applied by Lonnie Tully and Bill Tyler with the Pin-Stripping and interior Faux Wood Dash done by Don Tippet. Upholstery was completed in leather by Jerry Bromagen.

The Drive-Train is obviously the stand out. The Engine is a 2002 Vortex Fuel Injected V6 backed up by a 700 R-4 Transmission. It has TCI front suspension set up with an independent front end and Disk Brakes. The Rear End is from a 1976 Jaguar which was chromed and polished. The Axles are interesting, they are not round but hex shaped in order to reflect light as they spin. There is an AC pump installed but it has not been plumbed.

4,633 miles are showing . The VIN is OR80517. Please come by and see at Automania LLC, 895 SE Gladiola Drive, Grants Pass, OR 97526. http://www.automaniagp.com 541 479 8888 Oregon Dealer DA1287.

Automania LLC is a Consignment Oregon Dealer selling quality, privately owned motorcycles and cars of interest.

[click on a thumbnail below to view a larger photo - IF you don't see thumbnails then your browser is blocking them.
You can either turn off ad-blocking or try clicking on the top graphic in order to thumb through the photos.]