1968 Ford Mustang Grants Pass, Oregon 97526 For Sale
THIS ITEM HAS BEEN SOLD!
Please click "back" or on the top menu for other listings.


[click on the image below or scroll to the thumbnail images at bottom to view the gallery.]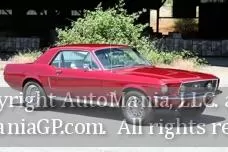 1968 Ford Mustang
Grants Pass, Oregon 97526

Once in a blue moon, we at Automania see the end result of a person's passion for a vehicle go unchecked by the normal realities most of us suffer with. Where money is important, but it should not get in the way of the end vision. This 1968 Ford Mustang is a classic case of desires and dreams running smack into reality three quarters of the way through with no way out but to see it to its finished end.

The car, when purchased, had suffered the similar fate of most older cars, there were minor pockets of corrosion in typical places common to the model. At the beginning, the Mustang was stripped to it's shell for a full rotisserie recommissioning. I was going over the 160 images of the work as it was being completed and the accompanying binder with over $60,000 in receipts included. It is awe inspiring. Every one of us has wanted to do this to a car we dreamt about in High School, many of us have started, very few of us have had the opportunity to follow this path. This is what it looks like and why we haven't done it ourselves. Lust and longing are held in check by our realities and when they are not, usually we end up with a car covered in a tarp, sitting outside of the shop for decades on end, getting grief from friends and the little woman about getting it gone. All apart, some parts ordered, but the monumental size of the task has settled in on us like winter fog in the Rogue Valley.

As to this car, it made to the end. There is not a used bolt, washer or nut anywhere on it. Much of the suspension and drivetrain is powder coated. Everything is new underneath. The entire drive train is reconditioned with records showing cam timing and parts installed. Look at the images we took underneath at the shop. Spotless. I drove the car to take images and there is not a rattle or squeak. It is as close to new as you can spend. Success! Take a look through the images of the restoration. Everything is shown.

So what happens after you find yourself at the wrong end of the ledger when a project is done? If you don't sell it, nothing is lost. But what if the project was started in 2007 and it is now 10 years later? Interests change, situations change and choices are made. The market for the car is what we are living with today and the car has a value. $60,000 in receipts does not make it worth that much.

About the factory V-8 car. It is powered by a 302, Automatic Transmission, Power Steering with Air Conditioning. About 3000 miles have been put on it since it was completed. It is superb car, completely recommissioned, no corrosion, excellent paint and interior and beautiful to drive and a sight to see. And awe inspiring.

The selling price is $22,500. The VIN# 8R01J111358. Miles showing are 43,013. For other interesting bikes and collectible vehicles, visit our web site http://www.automaniagp.com 541-479- 8888 or come by and see us at 895 SE Gladiola Drive, Grants Pass, Oregon, 97526. Oregon Dealer DA1287.

Automania is a Consignment Oregon Dealer selling quality, privately owned vehicles including Aprilia, Buell, BMW, Citroen, Ducati, Harley Davidson, Honda, Hummer, Kawasaki, Moto Guzzi, MV Agusta, Nissan, Ossa, Piaggio, Suzuki, Triumph, Vespa, Classic Hot Rods, Buick, Dodge, Ford, Chevrolet, Lamborghini, MG, Packard, Porsche, Rover, Shelby, Toyota, Triumph, Volkswagen and any other vehicle of interest.