1954 Dodge Panel Truck Model C-1-B6 For Sale
THIS ITEM HAS BEEN SOLD!
Please click "back" or on the top menu for other listings.


[click on the image below or scroll to the thumbnail images at bottom to view the gallery.]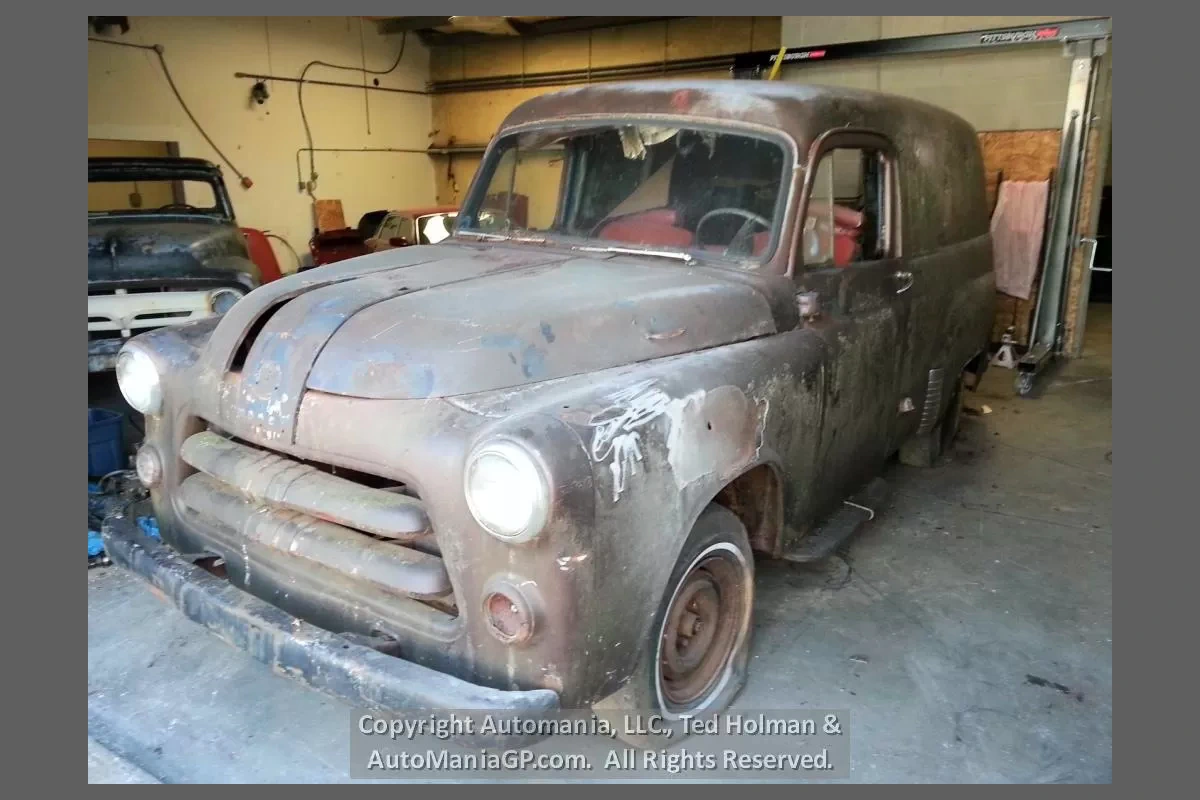 1954 Dodge Panel Truck Model C-1-B6
Price: $5600.00 USD
- PREVIOUSLY SOLD
I am sure all of us have friends that listen but never follow good advice given to them by experts and friends in the hot rod industry. Such is the owner and builder of this 1954 Dodge Panel Truck Model C-1-B6 who has been designing and building this truck for the past 12 years. I have always referred to this syndrome as having more dollars than sense. This Panel has survived every known personal hardship and life experience that we have all gone through at one point or another, in this case, with things sorted out, he has admitted that he will probably not be finishing it.

So what was accomplished so far? Unbelievable Chassis and Drive Train work.
The front suspension is 1986 Jaguar XJS, completely rebuilt with poly bushings, steering rack, calipers and rotors and converted to airbags. It was mounted using original Jaguar sub frame mounting points, all of it bolted in.

The rear suspension is also 1986 Jaguar XJS. It was completely rebuilt with new bushings, calipers, and rotors. He converted to combination of two conventional coil-overs and two air coils. It was mounted to a custom frame using original Jaguar mounting points.

The Engine is a Mid 70's Mopar 360. He had it bored .10 over with Keith Black pistons, Comp High Energy Cam, adjustable roller rockers, hand ported heads, Edelbrock Air Gap intake. The price in parts is over $4000. The Automatic Transmission is a Dodge A518 automatic with overdrive.

You can see some body work was completed, there is a lot more to do, but this is going to be a great, beautiful driver when it is completed and much of the heavy lifting has been done with the present condition of the drive train.

The selling price is $5600. The VIN is not attached and as such, we are going to be selling everything for parts. It will require a VIN inspection when it comes time for title and registration. For other interesting bikes and collectible vehicles, visit our web site http://www.automaniagp.com 541-479- 8888 or come by and see us at 895 SE Gladiola Drive, Grants Pass, Oregon, 97526. Oregon Dealer DA1287.

Automania LLC is a Consignment Oregon Dealer selling quality, privately owned vehicles including Aprilia, Buell, BMW, Citroen, Ducati, Harley Davidson, Honda, Hummer, Kawasaki, Moto Guzzi, MV Agusta, Nissan, Ossa, Piaggio, Suzuki, Triumph, Vespa, Classic Hot Rods, Buick, Dodge, Ford, Chevrolet, Lamborghini, MG, Packard, Porsche, Rover, Shelby, Toyota, Triumph, Volkswagen and any other vehicle of interest.




[click on a thumbnail below to view a larger photo - IF you don't see thumbnails then your browser is blocking them.
You can either turn off ad-blocking or try clicking on the top graphic in order to thumb through the photos.]