2020 Dodge Ram 1500 Bighorn Black Widow For Sale
THIS ITEM HAS BEEN SOLD!
Please click "back" or on the top menu for other listings.


[click on the image below or scroll to the thumbnail images at bottom to view the gallery.]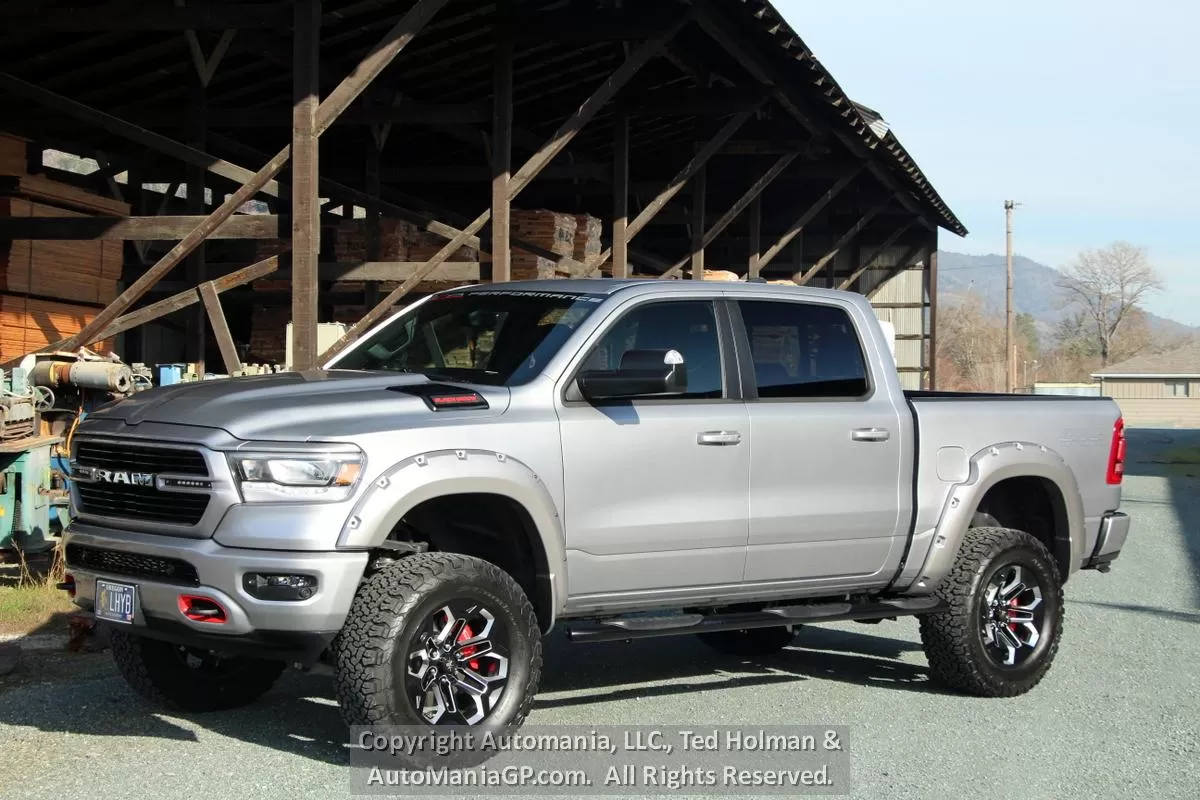 2020 Dodge Ram 1500 Bighorn Black Widow
Price: $64,995 USD
- PREVIOUSLY SOLD


As New

In past years we have sold several cars and trucks that have been exported overseas, always used, with at least the minimum number of miles to legally qualify for each countries importation standards. What we have discovered in the past is that most fiberglass cars and cars with replacement frames or suspensions, even those changes that made significant improvements, were not allowed by Germany's TUV technical inspection.

A long time Automania LLC customer came to us with a very unique problem. Over the past years, he has purchased several cars from us that were then shipped to Germany. A good friend of his, living in Germany, found the truck of his dreams, a brand new 2020 Dodge Ram 1500 Bighorn Black Widow and bought it with plans to import it to Germany. It had to be a gas motor as the US Diesel's do not meet Euro VI standards. It was assumed that the vehicle would meet Germany's TUV safety standards as it was sold new by the Dodge dealer with warranty.

And that is where it went wrong.

Further research found that the German TUV will not allow any vehicle to be operated on German roadways that has altered suspension from the factory design unless it has been tested and approved. It also does not allow any fiberglass bodied cars to be imported that have not passed their crash standards. They take their Autobahns and corresponding speeds seriously.

So the truck is going to be sold. It has 1,951 miles on it and has the full Chrysler and Black Widow warranty that it was sold with new. I am including the window sticker and Black Widow invoice with all of the specifications. The plus side is that there is a chip shortage and Dodge, Ford and GM are talking a 25% reduction in production for this quarter. Not only is the truck almost new and for sale, as time goes on, they will be harder and harder to find until the chip issue is sorted out. Another plus is the $1,200 in LED lights that were installed by the dealer after the sale.

New, the truck was invoiced, with DMV and doc fees at over $78,000. It now has less than 2,000 miles. The selling price is $64,995 and the VIN# is 1C6SRFFT8LN122686. For other interesting bikes and collectible vehicles, visit our web site http://www.automaniagp.com 541-479- 8888 or come by and see us at 895 SE Gladiola Drive, Grants Pass, Oregon, 97526. Oregon Dealer DA1287.

Automania LLC is a Consignment Oregon Dealer selling quality, privately owned vehicles including Aprilia, Buell, BMW, Citroen, Ducati, Harley Davidson, Honda, Hummer, Kawasaki, Moto Guzzi, MV Agusta, Nissan, Ossa, Piaggio, Suzuki, Triumph, Vespa, Classic Hot Rods, Buick, Dodge, Ford, Chevrolet, Lamborghini, MG, Packard, Porsche, Rover, Shelby, Toyota, Triumph, Volkswagen and any other vehicle of interest.



[click on a thumbnail below to view a larger photo - IF you don't see thumbnails then your browser is blocking them.
You can either turn off ad-blocking or try clicking on the top graphic in order to thumb through the photos.]