1991 Chevrolet Silverado C1500 4X4 For Sale
THIS ITEM HAS BEEN SOLD!
Please click "back" or on the top menu for other listings.


[click on the image below or scroll to the thumbnail images at bottom to view the gallery.]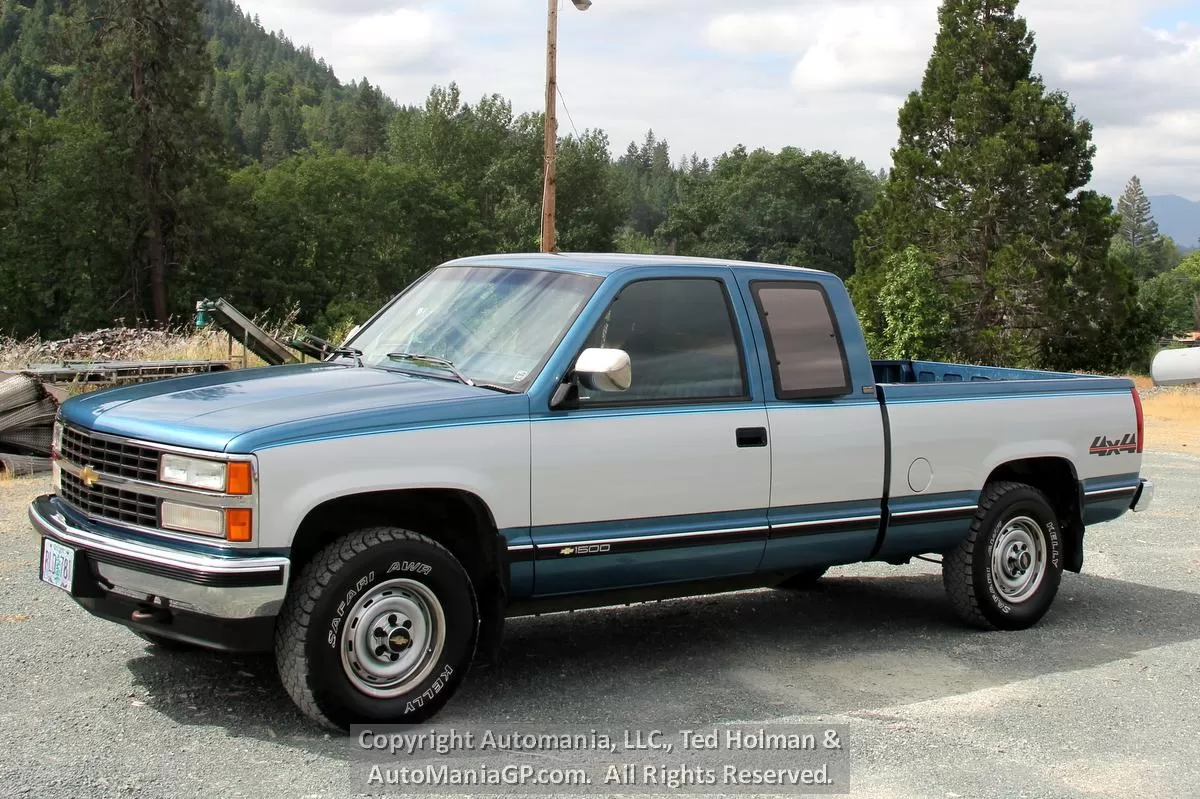 1991 Chevrolet Silverado C1500 4X4
Price: $8,995 USD
- PREVIOUSLY SOLD
This one owner, 1991 Chevrolet Silverado C1500 4X4, is remarkable for being a 32 year old GM product. The original paint, decals and interior are all items that you would never expect to see, especially on a Pickup Truck. The miles showing on the odometer are 69,311 and from the consignor, they are the actual miles. The truck was kept garaged and used only for pulling a boat trailer on occasion since new. When the owner passed, the property the truck was stored in was sold and the truck was included with the house sale.

The downside to the story is that it spent its entire life in Coos Bay, Oregon. Even being garaged, there was surface corrosion on unpainted surfaces as can be seen in the images. In particular, the engine compartment does not show well. Also being from the coast, the AC was never used or tested and at this time the compressor is not engaging when the AC is switched on. It has not been inspected and will at the least, need charging or possibly more if needed.

The truck starts instantly and my short driving experience showed it to be rattle free and almost as good as new when going down the road. In my opinion, this is the best feature of the truck, how well it drives after thirty-two years. I engaged the 4WD, both in High and Low Range. The system worked as expected was easy enough to go out and into.

The paint is in good shape with some deterioration on the hood and roof from being exposed to coastal conditions. The paint on the rest of the body, including the bed and tail gate is very good as is the condition of the factory GM applied decals. The interior shows almost no wear and the headliner, normally the first thing to dissolve, is not sagging or showing any of the typical GM separation issues. Cosmetically and mechanically, the truck shows the 69,000 miles showing on the odometer as actual. Except for the experience of being on the coast, it is a great truck.

The truck shows just 69,311 miles and the VIN# is 2GCEK19HOM1137531. The selling price is $8,995. For other interesting bikes and collectable vehicles, visit our web site http://www.automaniagp.com 541 479 8888 or come by and see us at 895 SE Gladiola Drive, Grants Pass, Oregon, 97526. Oregon Dealer DA1287.

[click on a thumbnail below to view a larger photo - IF you don't see thumbnails then your browser is blocking them.
You can either turn off ad-blocking or try clicking on the top graphic in order to thumb through the photos.]