2006 Pontiac Solstice For Sale
THIS ITEM HAS BEEN SOLD!
Please click "back" or on the top menu for other listings.


[click on the image below or scroll to the thumbnail images at bottom to view the gallery.]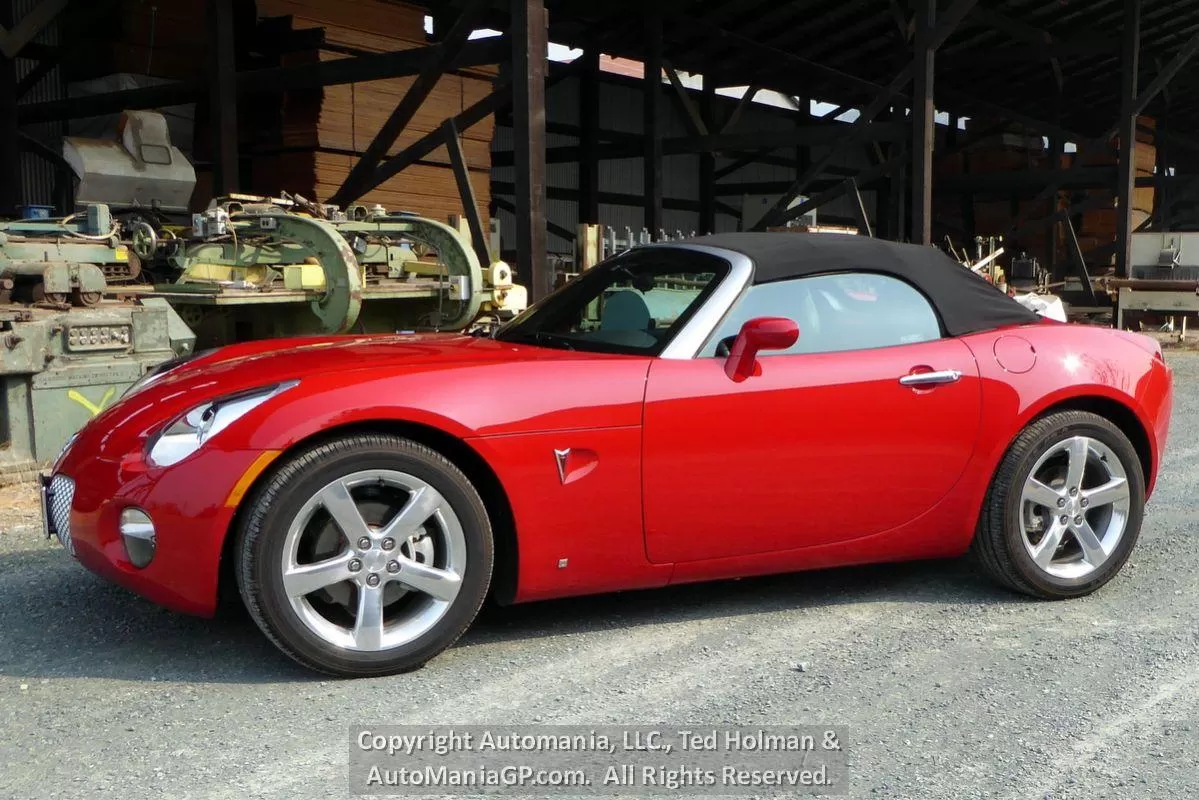 2006 Pontiac Solstice
Price: $18,995 USD
- PREVIOUSLY SOLD
About five years ago Vern Beck wandered into the shop with this beat up old two stroke he was sure was worth a mint. Well, it might have been in another life time, but now it was just worth parts. Not be considered a light weight, Vern sat down to tell me about his 2006 Pontiac Solstice he had bought at Roe Motors here in town, brand new, 10 years earlier.

If you had met Vern, you have been incredulous as I was that he had bought, much less driven a Solstice. Vern was not svelte in design. If fact, you noticed that the only thing bigger than Vern was his personality and gift of gab he had fine tuned as "The Number 1 Pool Salesman" in LA during the late 50's and early 60's. He sold more pools than there were houses in LA County according to him. As time went on, it was always a treat when Vern came by, with his stories of the cars he owned in storage and his collection of Clyde Drexler autographed memorabilia (who he called on a regular basis just to catch up).

Back to the Solstice and why he had it. Vern and his wife were huge fans of Donald Trump and his program, "The Apprentice". Huge does not really describe it, they wanted to be part of "the Donald "dream. Well, according to Rozella, Trump's program offered a free Solstice to the season's winning team which would include coming up with a plan to sell 1,000 cars. The promotion was beyond successful, all the cars being pre-sold in less than 41 minutes. Rumors were that Trump even risked his comb-over hairstyle by taking the first car for a spin.

Vern was so disappointed not to have bought one of these first 1,000 cars, he went down to Roe Motors and ordered his directly from Ross Roe that afternoon, never having seen one, sat in one or driven one. I can only imagine the day it was delivered, a bit of a shock to the whole family as it was a snug cockpit and there was no way Vern was driving it anywhere.

The car was taken to their Mini-Storage complex and parked in one of the enclosed units. Over the years, his grown daughters would occasionally take it out for drive, but it managed to accumulate only 299 miles in 14 years. Roe Motors sent them a reminder to have the coolant system flushed and an oil change, but that has been the extent of the service work done. Obviously the battery was replaced along the way.

I drove the car to the shop and it was as new. There is nothing out of the ordinary about this car, it has no faults, it is as it came out of the showroom. There is a bit of corrosion on the unpainted surfaces under the car, the axles and minor hardware. I asked Rozella where the window sticker was and she told me when they were unloading the car from the truck and tried to put it on the window, she told them "No Way!." I scanned the build information she supplied and it is attached to the site. This is as close as you are going to get 14 years later to a new car without a time machine.

The VIN# is 1G2MB33B96Y102583. Miles are 307. Our selling price is $18,995. For other interesting bikes and collectible vehicles, visit our web site http://www.automaniagp.com 541-479- 8888 or come by and see us at 895 SE Gladiola Drive, Grants Pass, Oregon, 97526. Oregon Dealer DA1287.

Automania LLC is a Consignment Oregon Dealer selling quality, privately owned vehicles including Aprilia, Buell, BMW, Citroen, Ducati, Harley Davidson, Honda, Hummer, Kawasaki, Moto Guzzi, MV Agusta, Nissan, Ossa, Piaggio, Suzuki, Triumph, Vespa, Classic Hot Rods, Buick, Dodge, Ford, Chevrolet, Lamborghini, MG, Packard, Porsche, Rover, Shelby, Toyota, Triumph, Volkswagen and any other vehicle of interest.

[click on a thumbnail below to view a larger photo - IF you don't see thumbnails then your browser is blocking them.
You can either turn off ad-blocking or try clicking on the top graphic in order to thumb through the photos.]