1991 Dodge Stealth R/T AWD Twin Turbo For Sale
THIS ITEM HAS BEEN SOLD!
Please click "back" or on the top menu for other listings.


[click on the image below or scroll to the thumbnail images at bottom to view the gallery.]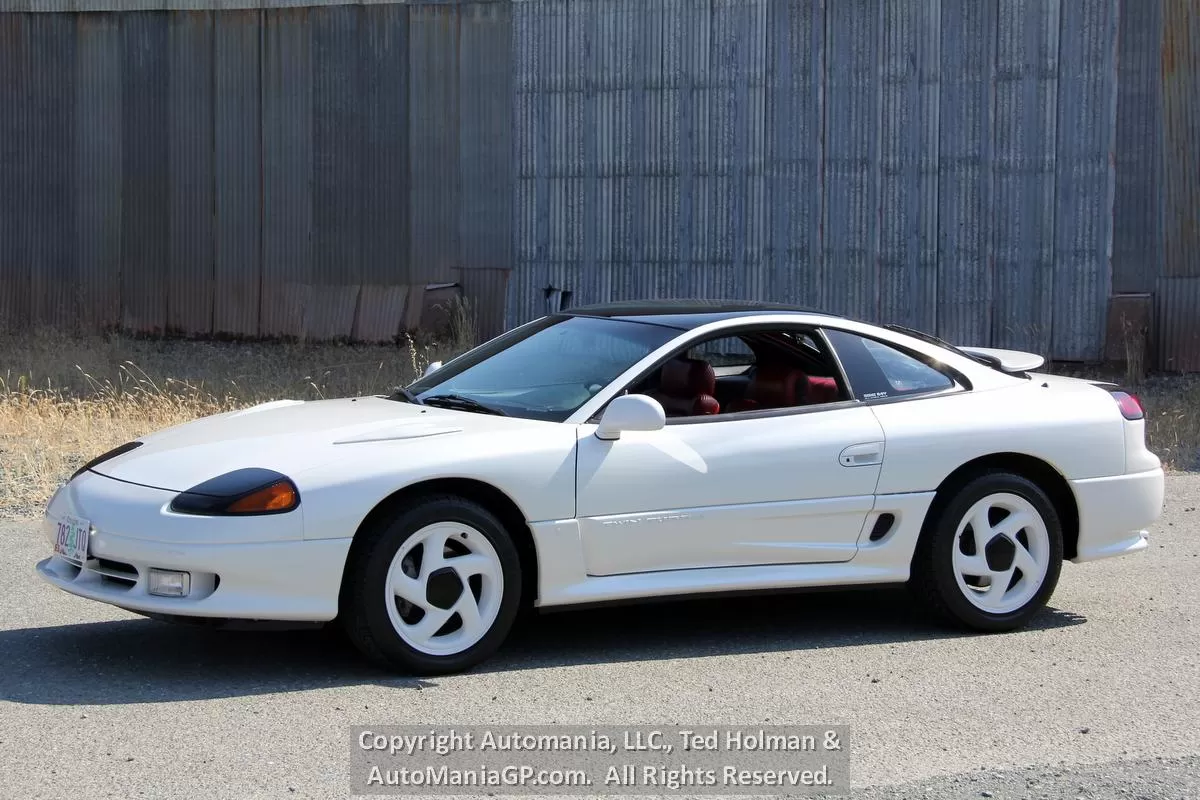 1991 Dodge Stealth R/T AWD Twin Turbo
Price: $29,995 USD
- PREVIOUSLY SOLD
1991 was a tough time in Grants Pass, things around the world were slowing and Southern Oregon has always been the tip of the tail of a wagging dog. I remember seeing the new Dodge Stealth R/T Turbo AWD Coupe in our local Dodge store, which changed hands once again very shortly there after. It was the kid looking through the display glass at a bakery feeling, wishing it was possible to buy a car.

In 1991, it had newest in Automotive Technology, 4-Wheel Steering, Adaptive AWD which could adjust a percentage of power delivered from the front to rear. Twin Turbos, Active Damping, ABS, Active Exhaust which could be changed with the flip of a switch. In the day, the Turbo V-6 was rated at 296hp at 6,000 rpm with 306#'s of torque at 2500 rpm, all of this run through a 5-Speed manual transmission.

It had everything the exotics had except those crazy price tags.

Our two owner car has the original Pearl White Finish with 13,803 miles from new showing. Tires are Michelins, not the original Goodyear Eagles that were factory equipment. The car was purchased from the original owner in Connecticut decades ago by the present owner who was unable to afford the car when it was sold new, filling a bucket list desire from those times. Recently retired, there is downsizing going on and the car is now being offered for sale.

Standard equipment is the leather-wrapped steering wheel equipped with an airbag and audio controls. Additional amenities include a CD/cassette stereo, automatic climate control, fold-down rear seats, and a retractable cover for the rear cargo area.

Cosmetically the car is excellent. I have found no blemishes in the paint or any signs of body damage or repair. On the hoist, it looks like a car that has been basically sitting for 30 years, no damage or corrosion other than surface oxidation on the underneath unpainted surfaces.

The miles are 13,804 from new and the selling price is $29,995. The VIN# is JB3XE74C6MY029993. For other interesting bikes and collectable vehicles, visit our web site http://www.automaniagp.com 541 479 8888 or come by and see us at 895 SE Gladiola Drive, Grants Pass, Oregon, 97526. Oregon Dealer DA1287.

Automania is a Consignment Oregon Dealer selling quality, privately owned vehicles including Aprilia, Buell, BMW, Citroen, Ducati, Harley Davidson, Honda, Hummer, Kawasaki, Moto Guzzi, MV Agusta, Nissan, Ossa, Piaggio, Suzuki, Triumph, Vespa, Classic Hot Rods, Buick, Dodge, Ford, Chevrolet, Lamborghini, MG, Packard, Porsche, Rover, Shelby, Toyota, Triumph, Volkswagen and any other vehicle of interest.

[click on a thumbnail below to view a larger photo - IF you don't see thumbnails then your browser is blocking them.
You can either turn off ad-blocking or try clicking on the top graphic in order to thumb through the photos.]