1986 Volkswagen T3 Vanagon Westfalia For Sale
THIS ITEM HAS BEEN SOLD!
Please click "back" or on the top menu for other listings.


[click on the image below or scroll to the thumbnail images at bottom to view the gallery.]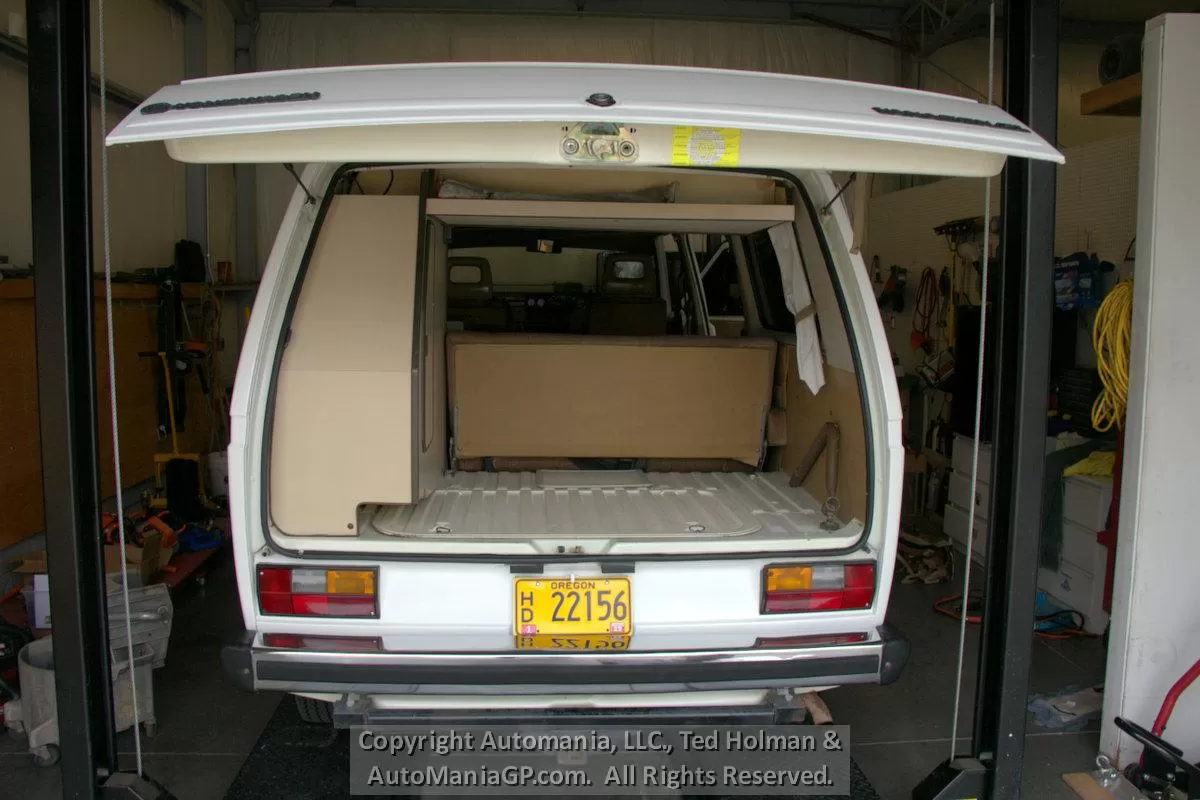 1986 Volkswagen T3 Vanagon Westfalia
Price: $14,695 USD
- PREVIOUSLY SOLD


Listing is in Process, check back soon

The owner of the Vanagon, with receipts dating back to 2010, was an engineer with a clearly obsessive approach to reconditioning this Bus. It was going to be their adventure vehicle, one that would take them on a bucket list of destinations around the US and further. He wanted the whole chassis and interior reconditioned for the trip, avoiding surprises on their travels, of becoming a victim to circumstances and unknown individuals. By addressing these tasks in his hometown with Vanagon Industry experts 'San Diego Westy', he would control the work, make decisions without the pressure of being broken down in 'BF where-ever' and protect their adventure. There were no short cuts, no limits drawn to this goal of being prepared and he followed Westy's advice without question.

"Hope for the best, prepare for the worse"

There is a thick folder of invoices from San Diego Westy with over $38,000 in mechanical services. The big items were the rebuilt GVW 2.3 Liter Engine, a "German Trans" rebuilt Automatic Transmission, along with coolant lines, heater lines, stainless steel hard lines, front brake calipers, rear shoes, wheel cylinders and tons of suspension bushings being replaced. The rear drive shafts were replaced, wheel bearing, on and on it goes. Included was the GoWesty Progressive 1.5 inch spring kit that included Bilstein Shocks on all four corners. No expense was spare in the day.

The interior received the same treatment, the Fridge was replaced, the Camper Top had new canvas installed, a Dual Battery House System was installed, almost everything was refurbished or replaced. The invoices give it all, I scanned and included the big ones. Go over them carefully, it is amazing what an open wallet looks like on paper. Last but not least, the Odometer was reset to zero when the work was completed showing 26,076 today. Actual miles since new are unknown.

The Vanagon toured all over the country and to Alaska before settling in Oregon about seven years ago. The Van sat, unused, next to a new home being established. About three years ago, medical issues arrived that again changed the course of events. A local paint shop was enlisted to repaint the van to the original color two years ago. If an opinion was to be asked, they need to have their tool boxes taken for a long walk on a short pier. I do not recall seeing anyone charge for work like this. The good part is that looking under the rig, I did not find signs of rust or impact. This paint job certainly did no one any favors.

I drove the van around town and was impressed by the acceleration. I thought having an Automatic would be a deal killer, but with the added displacement, I am sure it was as fast or faster in straight line as a manual transmission car. It drove very well and for a brief moment, I could imagine heading north (well, as far as the Canadian Border anyway) for an extended road trip.

So what is the Van? I would call it great bones. The interior was not helped by being parked, the curtains need attention, the rear cushion needs to be recovered, some water lines got chewed up. There is work that can be done to personalize the interior without taking away from stock coverings. The drive train is what you see instead of the van. It is the best part. Take a look at our images of the underside. A lot of time and money was spent. If this van was in excellent condition, it is feasible to think someone might see the value over $34,000. At the selling price, it gives a person a lot room to work with a great base VW adding your sweat equity.

Look at the images and the scanned invoices. There is a dream here, another beginning, another adventure waiting to start. Bring your imagination to the table and off you'll go.

The selling price is $14,695. VIN# is WV2ZB0250GH065292. For other interesting bikes and collectible vehicles, visit our web site http://www.automaniagp.com 541-479- 8888 or come by and see us at 895 SE Gladiola Drive, Grants Pass, Oregon, 97526. Oregon Dealer DA1287.

Automania LLC is a Consignment Oregon Dealer selling quality, privately owned vehicles including Aprilia, Buell, BMW, Citroen, Ducati, Harley Davidson, Honda, Hummer, Kawasaki, Moto Guzzi, MV Agusta, Nissan, Ossa, Piaggio, Suzuki, Triumph, Vespa, Classic Hot Rods, Buick, Dodge, Ford, Chevrolet, Lamborghini, MG, Packard, Porsche, Rover, Shelby, Toyota, Triumph, Volkswagen and any other vehicle of interest.




[click on a thumbnail below to view a larger photo - IF you don't see thumbnails then your browser is blocking them.
You can either turn off ad-blocking or try clicking on the top graphic in order to thumb through the photos.]