2002 Ford Thunderbird Grants Pass, Oregon 97526 For Sale
THIS ITEM HAS BEEN SOLD!
Please click "back" or on the top menu for other listings.


[click on the image below or scroll to the thumbnail images at bottom to view the gallery.]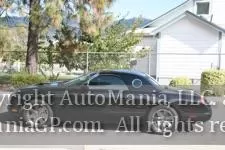 2002 Ford Thunderbird
Grants Pass, Oregon 97526
Price: $16,495 USD
- PREVIOUSLY SOLD
I have always wanted to drive one of the current Thunderbirds since we sold the 1956 T-Bird two years ago. These modern retro cars might have of been sacrilegious in my opinion, riding the shirt tails on past iconic models that all of us lusted for but never were able to own.

This 2002 is a car that was sold locally at Mock Ford new to it's current owner who managed to put 26,330 miles on it in 11 years. Full and complete service records from Mock Ford were supplied with the car. I finally was able to drive one of these modern T-Birds and was surprised at how much it reminded me of the 1956 we sold. The driving position is so similar it was uncanny. Once you were going though, it was a surprise at how modern design has transformed the experience, it drove awesome. The car is basically built on a shortened Lincoln LS chassis and it drives great with a very smooth controlled ride. The 4.0 liter V-8 and Automatic make for an incredibly seamless drivetrain. The car handled extremely well for a vehicle designed to comfortably transport two people and their belongings. What a great alternative to earlier Mercedes SL range of models it reminds me of for someone looking at them for about the same money.

The car came equipped with the optional Hard Top and Premium package which included the 17" Alloy wheels. We took the Hard Top off for images and the rack supplied held the assembly perfectly. It even has rollers so you can move it around without damaging it. The soft top is in excellent condition with no marks or signs of damage. The Tonneau Cover was probably never used until we installed it for the photos. The rest of the car is in excellent condition with minor signs of being driven over the past 11 years. It is hard to believe it is being sold for half of the original cost of over $40,000 when new.

The selling price is $16,495. For other interesting bikes and collectable vehicles, visit our web site http://www.automaniagp.com 541 479 8888 or come by and see us at 895 SE Gladiola Drive, Grants Pass, Oregon, 97526. Oregon Dealer DA1287.

Automania is a Consignment Oregon Dealer selling quality, privately owned vehicles including Aprilia, Buell, BMW, Citroen, Ducati, Harley Davidson, Honda, Hummer, Kawasaki, Moto Guzzi, MV Agusta, Nissan, Ossa, Piaggio, Suzuki, Triumph, Vespa, Classic Hot Rods, Buick, Dodge, Ford, Chevrolet, Lamborghini, MG, Packard, Porsche, Rover, Shelby, Toyota, Triumph, Volkswagen and any other vehicle of interest.