1959 Volkswagen VOLKSTREAM For Sale
THIS ITEM HAS BEEN SOLD!
Please click "back" or on the top menu for other listings.


[click on the image below or scroll to the thumbnail images at bottom to view the gallery.]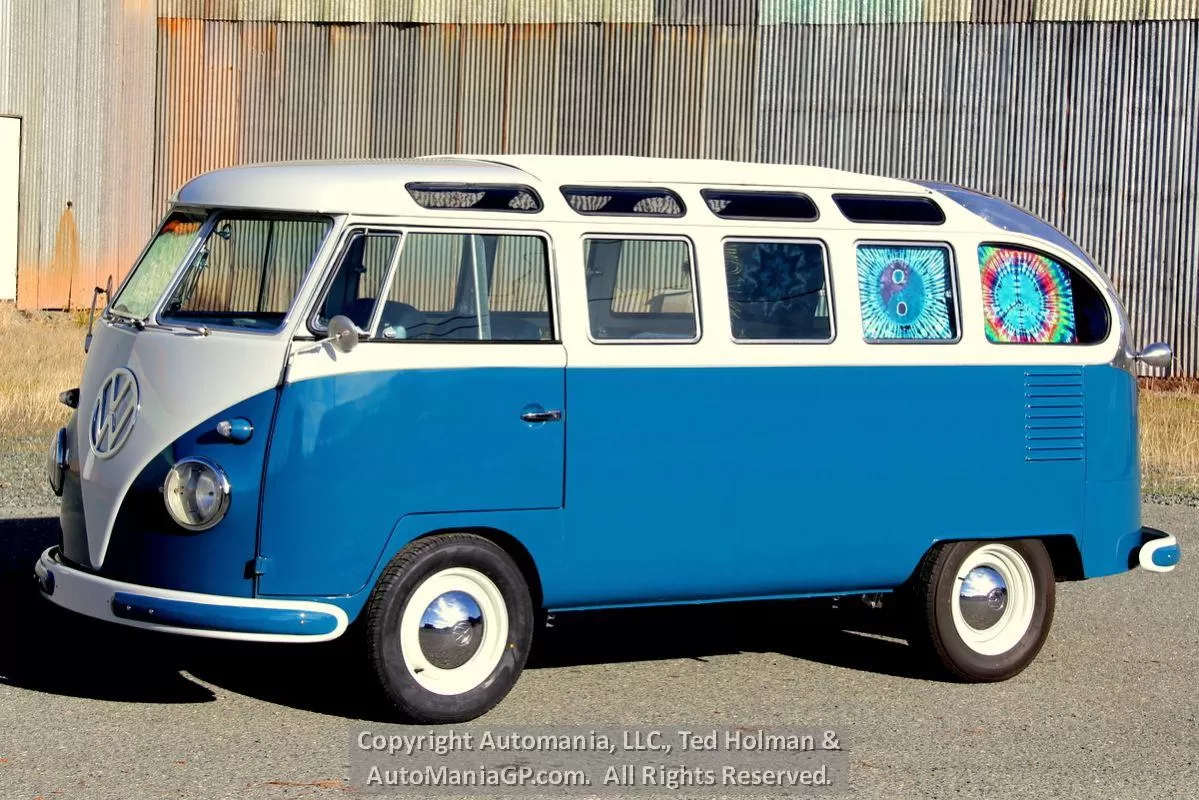 1959 Volkswagen VOLKSTREAM
Price: $105,695 USD
- PREVIOUSLY SOLD


Sold to a Randy Grubb fan!!!

Cars and the people that own them make for a good reason to wake up and come to work. Cars are always interesting but the owners sometime eclipse them as in the case of the is 1959 Volkswagen "Volkstream" Type 11 built and owned by Randy Grubb (https://randygrubb.com/), creator of world famous Blown Glass and a series of cars, coaches and motorcycles collected and owned by the likes of Jay Leno and others. In a few words, a gifted fabricator and car nut who has few peers in dreaming, designing and building rolling Automotive sculptures.

And now his 1959 "Volkstream". Randy's first words upon driving up were, "No I am not stupid enough to cut up a real 23 Window Bus", so let's get that out of the way. This original, Type 11, eleven window bus had been tagged in the rear previously and was the perfect palate for Randy's open vision of his rolling automotive sculpture.

The '59 came with an original solid roof which was removed and replaced with the eight panoramic roof windows, sliding roof panel roof. Less than 10% of all pre-1963 Volkswagen Type 11's were 23 Window Delux models and they are indeed a rare sight. Randy's vision of the '59 evolved from his "Magic Bus" build from a few years back that was inspired in part by Ken Keysey and the 60's Haight Ashbury. Randy wanted a stand alone rolling sculpture that he could visit events and be used to socialize without the need to drag extra chairs and pop-up tents for hanging out.

The body is best described by the images and video of Randy describing how he designed and built it. The tail section is what Randy is know for, the over lapping, riveted, formed and polished aluminum familiar to the Airstream Trailer crowd, hence the name "Volkstream". The interior is mostly stock VW until it reaches the "Z" Bed that Randy fabricated. He did add a couple of rare VW accessories, the Safari Front Windows and the Revolving Front Seats. The back of the Bus is all Randy, framed in by his curved Aluminum Exterior panels into a comfortable couch with the back seat folded flat. Everything else in front of the couch is exactly stock except for the heater vents showing under it.

The drivetrain is unique and state of the art Volkswagen build. Kennedy Engineering supplied the adapter and mounting hardware to install the 2.5 Subaru non-Turboed Boxer Flat 4 putting out 160hp, a bit more than the original 40hp the bus came with. The front beam was swapped out for a ball joint style used from 1968 on with Wilwood Disk Brakes and Rack & Pinion Steering added to keep it pointed down the road. A Freeway Flyer Type 2 Transaxle was installed using the IRS style rear suspension. All of this added up to massively improved handling and stability needed for the increased power and speeds now available.

What I heard Randy state repeatedly was that the Bus was intended to be a rolling sculpture in the medium he has chosen, the automotive art form. This was to be one of his more simple, more usable platforms and one he and his wife would use on a daily basis to tour and relax with. I also heard Randy say that he had about 5,000 hours in the creation. Somehow the word relaxing is lost from that perspective in my opinion. I am not an artist who can live with little or no sleep and an imagination with few limits or limitless boundaries. There is only one Randy Grubb.

Randy has done a couple of interviews with the Bus, one with myself and another with Jay Leno. They are both linked to the website and give a much better view of the creation and understanding of what Randy was looking for. Jay Leno also drove the Bus and you can hear his opinion and excitement during his interview.

https://youtu.be/7ErCoD3Jii8
https://youtu.be/kjWWxImqKH0

VIN 430009 and miles showing are 7,746. Selling price is $105,695. For other interesting bikes and collectable vehicles, visit our web site http://www.automaniagp.com , 541 479 8888 or come by and see us at 895 SE Gladiola Drive, Grants Pass, Oregon, 97526. Oregon Dealer DA1287

Automania LLC is a Consignment Oregon Dealer selling quality, privately owned vehicles including Aprilia, Buell, BMW, Citroen, Ducati, Harley Davidson, Honda, Hummer, Kawasaki, Moto Guzzi, MV Agusta, Nissan, Ossa, Piaggio, Suzuki, Triumph, Vespa, Classic Hot Rods, Buick, Dodge, Ford, Chevrolet, Lamborghini, MG, Packard, Porsche, Rover, Shelby, Toyota, Triumph, Volkswagen and any other vehicle of interest




[click on a thumbnail below to view a larger photo - IF you don't see thumbnails then your browser is blocking them.
You can either turn off ad-blocking or try clicking on the top graphic in order to thumb through the photos.]

Randy bringing a big smile to Automania!!!


Randy and Jay Leno test driving Randy's Volkstream