2012 Iron Horse Widebody Trailer Grants Pass, Oregon 97526 For Sale
THIS ITEM HAS BEEN SOLD!
Please click "back" or on the top menu for other listings.


[click on the image below or scroll to the thumbnail images at bottom to view the gallery.]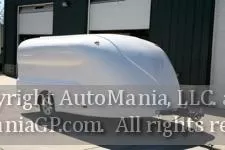 2012 Iron Horse Widebody Trailer
Grants Pass, Oregon 97526
Price: $8,695 USD
- PREVIOUSLY SOLD
You have to see this trailer! In all of my years of going to tracks for schools, track days, races and events, I have never seen anything this perfect for hauling motorcycles. It was ordered to transport up to 3 Sportbikes, but will easily haul 2 Full Dresser Cruisers with no problem.

This 2012 Iron Horse Wide Body, single axle, 3 Bike trailer is the most effective, efficient, highest quality trailer I have ever seen. Iron Horse's web site http://www.ironhorsetrailers.com/product/widebody/ will give the low down on all of the massive features of their trailers and a list of all the accessories that were ordered for this trailer. The fiberglass unibody construction and welded rectangular steel tube frame make Ironhorse Trailers among the sturdiest bike trailers built. The aerodynamic nature and light weight of Ironhorse Trailers combine to let you cruise as fast or slow as you want to go with a minimum impact on fuel mileage. The owner of this trailer reported that at legal Freeway speeds, the change in fuel mileage of his Yukon changed 1mpg.

Included are the full size Spare, Electric Brakes (plus the Full Function Security System that allows wirelessly adjusting the braking factor), Custom Full Cover for storage, 3 Wheel Chocks with Tie Downs Rings, Seven Pin Plug for hooking to the tow vehicle that allows charging the on board battery when plugged in.

With the low profile, the trailer was keep inside the owner's garage when not being used. It takes up the same space as a normal car and with the height being low, rolled into the garage without a fuss. It appears cosmetically to be almost in new condition. Why spend over $11,000 to buy it new when $8,695 gets you the same trailer in excellent used condition. See at Automania, 895 SE Gladiola Drive, Grants Pass, OR 97526. http://www.automaniagp.com 541 479 8888 Oregon Dealer DA1287.